Choosing cushions for outdoor furniture isn't rocket science, but at the same time you want to ensure you choose the best quality cushions to create a welcoming and comfortable outdoor space that you can enjoy now and in the future.
An outdoor space in which to enjoy in warmer months, or even all year-round, can be a tremendous amenity for any home. Even if the space is no more than a small balcony, taking in fresh air in privacy can be truly rejuvenating. Of course, this type of outdoor area is made even more comfortable by the right outdoor furniture, including comfortable places to sit. When it comes to outdoor furniture, often the most comfortable options are those which have removable seat cushions. Not only do these provide added padding for sitting and lounging, but they also make it easy and affordable to refresh furniture without completely replacing it. Buying new outdoor cushions that are not only durable but also attractive and welcoming can be a fun way to revive older furniture or simply change things up a bit. Outdoor cushions of various styles are widely available from furniture retailers, home improvement stores, and also online from eBay.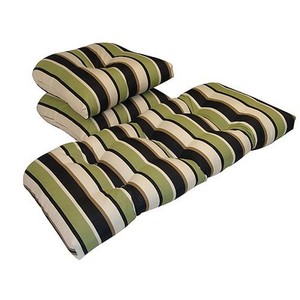 Choose a Type of Outdoor Cushion
Naturally, the first decision to make when purchasing outdoor cushions is which type of furniture is in need of new cushions. Different types of furniture will require cushions in different shapes and sizes.
Patio Chair Cushions
There are a number of types of patio chairs that may require replacement cushions. The type of chair will determine the type of cushions that are necessary. For instance, some chairs, like wrought iron patio chairs, may have an ornate back that is meant to be displayed and is not meant to be covered with a cushion. In this case, only the seat will need a cushion. Other chairs will have a place for both a seat and back cushion, which means that considerations like measurements will need to be made for both sections of the chair. When shopping for new outdoor cushions, be sure to verify if chair cushions are for the seat only or for the entire chair.
Lounge Chair Cushions
Another popular piece of patio furniture is a lounge chair, which may also be referred to as a chaise. Unlike regular patio chairs, these are lower to the ground and have an extended seat to allow for lying down, sunning, and otherwise lounging. Lounge chair cushions will therefore be considerably larger than regular chair cushions. It is also important to note that these cushions may come in a single piece with a crease where the seat meets the back, or may come in two pieces that need to be attached separately. Personal preference determines which style is better for any particular chair. However, if the cushions are separate it is …
Read more: http://www.ebay.com/gds/Your-Guide-to-Buying-Super-Stylish-and-Durable-Outdoor-Cushions-/10000000177628364/g.html